Looking for a good deal on electric rotating display stand? Because in this article i will explain all to you. Discover below the best Electric Rotating Jewellery Display 360 Degree stand that will be definitely suitable for you. And the most important will make your work easier! Don't forget something crucial. Filter for items like this that offer bonus benefits. This is free shipping and returns and make the most of your online shopping experience!
Rotating Electric – Turntable main Characteristics
WIDELY USE – Used for theme display, product display, photo show, cube spin display and advertising. Provide your customers with a 360 degree view of your product. Because this turntable allow the photographer to take photos in a 360 degree view. Enhance the display effect in showrooms, supermarkets, trade shows, etc.
QUIET & SMOOTH ROTATION – Constant, smooth rotations complete a full circle every 25 seconds. We dare you to find a quieter turntable. Because you can barely hear it! Which is nice, should you ever decide to showcase a product, like a cake at an event.
ANTI-SLIP – One button can be used to turn the spin function on or off. The bottom base has gripping surfaces that lock the base in place and prevent the table from moving while rotating.
Rotation speed – 25 seconds / circle (Hold up to 25 kg), extremely low noise and low power consumption. Diameter: 20CM, 220V power supply.
EASY TO USE – Just plug in and flip the switch! Single switch operation, turn on and off until the desired direction of rotation.
Rotating Electric – Turntable Detailed Product Descriprion
Below you can find a more detailed description of the product so you can have a complete picture and decide easily if you need it.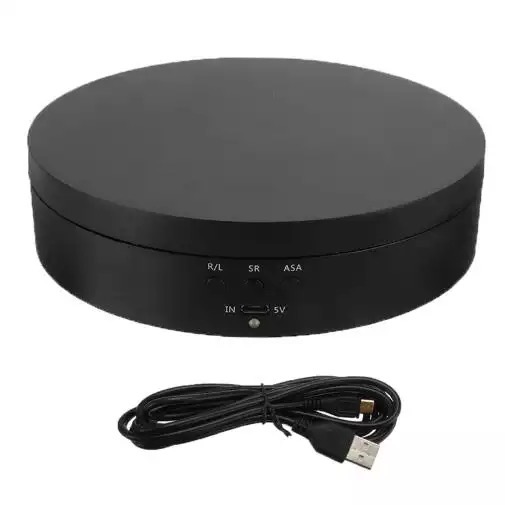 Title: Electric Rotating Jewellery Display Black Colour 360 Degree
Price: €49.00
Feature: 100% brand new and high quality.
Color: black
Features and description:
Name: 146 Smart Charging Rotary Disk.
Load: 10KG.
Speed: 8/15/30 seconds.
Size: 14635mm Package Size: 150 17 0* 40mm.
Speed control mode: three-speed manual speed control.
Product weight: 0. 25KG.
Power interface: 5V-USB interface.
Rotation direction: can turn left and right.
Power supply mode: USB plug-in / 18650 battery.
Product material: ABS.
Turn on: turn on any key, short press operation.
R/L: switch clockwise and counterclockwise, short press operation.
3.SR: Speed switching, 8 seconds, 15 seconds, 30 seconds per circle, short press operation.
ASA: Angle switching, 90-degree round-trip, 180-degree round-trip, short press operation.
5.IN 5V: Micro USB 5V external power supply.
Shut down: turn off any key, press and hold for 3 seconds
Rotating Electric – Turntable Display Power Supply Tips:

a. Without 18650 battery: When the machine is powered by USB, the light will be green when the machine is not started, and it will rotate
Bright red light;
b. When the 18650 battery is connected (when the USB is not connected), no matter whether the machine is started or not
Bright light
c. When the battery is installed and the USB connection power exists at the same time: the priority is USB power supply, when the USB is unplugged, there is power
The pool machine is working normally.
d. When the battery is installed and the USB connection is present at the same time: the machine does not work, all lights up in red, but the usb.

At the same time it can charge the 18650 battery.
8.18650 charging status indicator, the IN 5V port is charging with diffused red light, and the IN 5V port is full of diffused green light.
*Please note that the new product has a film on its surface. Please uncover it before use.



Other Characteristics:
Made mainly of ABS, non-toxic, strong and durable.
Sturdy construction.
360° turntable with adjustable speed, which can be adjusted according to different needs.
Suitable for displaying not only jewellery but also watches, cosmetics, toy models, mobile phones, digital cameras and small products.
For all the aforementioned reasons, Electric Rotating Jewellery Display Black Colour 360 Degree is considered as a must have gadget that every professional shall have! So you can find here.