What is the best card reader for small and big business? One of the cheapest card readers with the cheapestpayment processing fees for most business is SumUp. SumUp started its activities in Germany in 2012, just one year after its founding. It is currently represented in over 30 countries and employs more than 1000 people worldwide. The company is based in London.
It is best known as a provider of low-cost card payment systems that run on a smartphone or tablet. You can use it on IOS and Android system and apart from the card reader, no other hardware is required for this. The company is financed by well-known big names such as American Express, Groupon, BBVA Ventures and others.
In this article you will find all the information you need to know about the future of payments.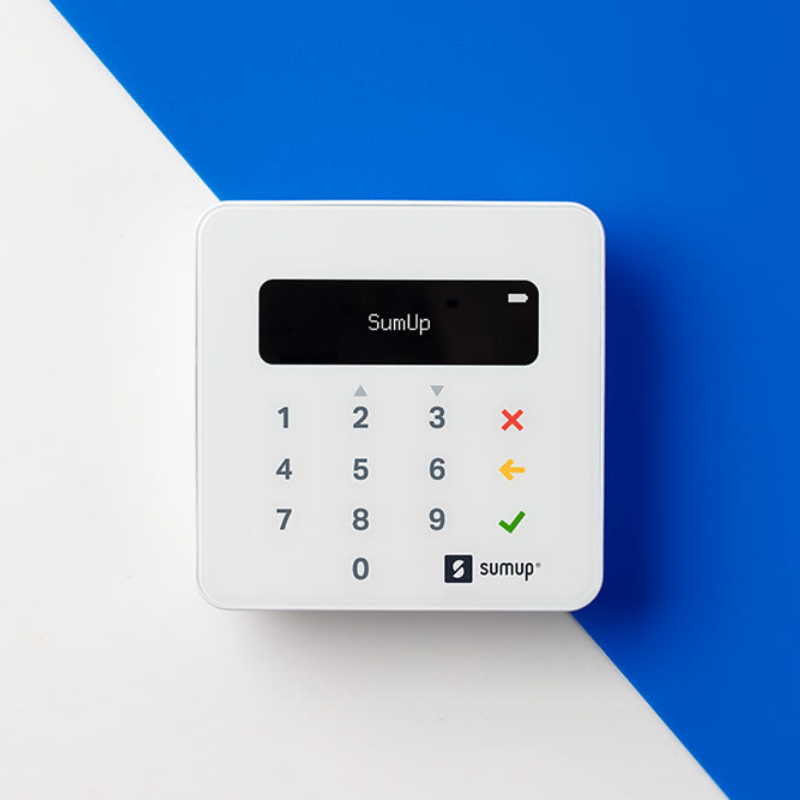 POS system from SumUp – Card Reader
SumUp offers its POS system as an app or complete package including hardware.
The SumUp cash register system is equipped with a card terminal so that you can accept payments via debit and credit cards. Of course, this also works wirelessly AND you get a WLAN router. It is preconfigured for your system and has a firewall to protect you from unauthorized access to the cash register. The outstanding point is that with this router you can use the SumUp cash register system even without internet access.
Card Reader – The Point of Sale App from SumUp
The SumUp POS app is the heart of your POS system. Of course, you can also use them separately on an existing iPad. It is very easy and intuitive to use and does not require a long training period.
Some of its benefits are:
fast goods entry via pre-configured article, search function or barcode scanning
easy acceptance of cash and card payments
uncomplicated employee management by means of separate logins with individual access rights.
In addition to the app, SumUp also offers a cloud service with many features. With his help, you can keep track of all your business figures even remotely. In addition, the system has a cash book function.
With an integrated analytics function, you can see when it's worth opening your business and when sales are dropping. You can even manage prices and invoices as well as items via the cloud. But the best thing is: you can almost completely dispense with paper and file stacks. All sales, cancellations and daily accounts are digitally stored in the cloud. That's very convenient for your tax advisor.
Fields of application / flexibility of the SumUp cash register system
Theoretically, the SumUp cash register system can be used anywhere, whether you run a small kiosk or a chain with several stores. In practice, however, the systems are mainly used by small to medium-sized businesses. It doesn't matter if you're selling food at a late sale or fashion in a boutique. The SumUp POS system is fail-safe because it has an offline function.
Data security of the SumUp POS system
SumUp works with its own high-security server to which the data relevant for a transaction is forwarded and processed. This means that the data of the payment processing will not fall into the hands of others. You are also in safe hands with SumUp: The system has been certified with the highest level of security in the financial sector, PCI-DSS Level 1, as well as the EMC. Data transmission is always encrypted. The data is not stored on your phone or other device at any time.
Costs / Fees at SumUp
There's no question SumUp offers a lot for a relatively small fee. The service is comprehensive and responsive. No more fixed costs!
Only pay 1.95% per transaction and payouts go directly into your bank account!
SumUp is the future of all business for one vital reason. It is quick and easy!