PAUL PARKMAN® speaks to a refined brand of extravagance man's footwear which never dismisses the genuine craft of handcrafting and upgrades the identity of those encountering the brand. Paul Parkman prides itself on assembling a portion of the most elevated quality men's dress shoes available. Beginning from the English style, amid the years our image has been always demonstrating its accumulations devoting specific regard for the propensities existing apart from everything else, however being steadfast to its type, in other words traditional and fashionable shoes. Everything is considered keeping in mind the end goal to reply to the necessities of a cutting edge, metropolitan man, a connected with man, who loves to take after present circumstances with their fashion, however who requests large amounts of value. The estimation of the shoes has dependably been a factor of acknowledgment for Paul Parkman mark. To fulfill this objective, crude materials are chosen with uncommon consideration. The decision is regularly spoken to by profitable cowhides. Our skilled team has figured out how to combine made-to-measure and ready-to-wear, accomplishing a consequence of the extremely most extreme quality.
PAUL PARKMAN ® manifestations are altogether made entirely by turn in a little processing plant, in constrained numbers; and highlight over the top research into Special Leather, materials and specifications.
Following this reasoning, Paul Parkman achieved essential pinnacles of demonstrable skill. A polished methodology whose acclaim vanquished the business sectors of awesome piece of the world. PAUL PARKMAN ® understands its items with energy. Along these lines the generation of the shoes keeps up the old kind of the workmanship. The man cut, sews, and amasses logically demonstrating a day by day work of art.
---
How to make sure on size selection ?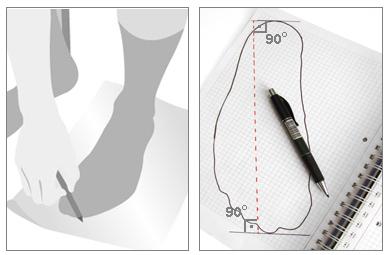 While seated, place your foot on a piece of paper in front of you.
With a pencil, trace around your foot. Hold the pencil as straight up-and-down as possible while measuring and be sure that your pencil remains in constant contact with your foot during this process.
With a ruler, measure your foot length. Please take the measurements from at the tip of the LONGEST toe and at the back of the heel.
Use the measurement to determine your shoe size on chart.
If you would like to buy half sizes, please contact us for a custom order.
For sizes greater than US 13 (EU 47) you may also place a custom order by contacting us as we can produce sizes up to US 15 (EU 50)

Tips on shoe size measurement
Take your measurements at the end of the day, when your feet are the largest.
Wear the socks you'll wear with your new shoes when you measure.
Measure both feet and fit shoes to the larger foot.
If you are doing the measurement by your self, you will get more accurate results if you sit in a chair when measuring. Don't stand.
If you have someone to help you take your foot measurement, standing is the best choice.
You may take measurements in inches or centimeters.
The size of a shoe may depend on many factors such as the width and shape of your feet or the last of the shoes. Dimensions mentioned on this page are for giving an idea only.
Even though your measurement is correct, your shoe size may still be different.